You may have heard the term "trunk show" being used on shows like "Say Yes To The Dress" and in bridal magazines and blogs everywhere.Well get ready to hear it again! Because we at Delica are very excited to announce that we will be hosting a Hayley Paige trunk show to showcase the Fall 2014 collection from December 19-21!
In order to prepare all you lovely brides for this amazing and positively thrilling event we thought we would answer some frequently asked questions about trunk shows so that you can walk into any bridal salon with the confidence of a seasoned pro.
You're welcome.
🙂
Okay, so…what is a trunk show?
A trunk show is a chance for designers to showcase their latest collection over the course of two or three days in a bridal boutique setting.  Designers can design ten..twelve…fifteen styles or more for a collection.
Typically stores don't carry every single gown from each collection, instead they select a few for their store.  A trunk show gives brides a chance to see the entire collection in one place at one time.
So you'll have every dress from that designer?
No, not every dress from the designer but every dress from the current collection.
When booking an appointment for a trunk show it's important to clarify which collection is being shown.  If you have a favourite gown that you are specifically hoping to try on its a good idea to double check which collection it is from.  You would hate to show up expecting a gown only to realize it belongs to the previous years collection.
For our upcoming Hayley Paige trunk show we are showing the Fall 2014 collection which can be viewed here.
Is a trunk show a sale?
A "trunk show" does not always mean "a sale".  Sometimes designers will offer deals for brides who purchase during their scheduled appointment that day but that doesn't always mean the price is lowered.  It could mean that there is no charge for adding buttons or switching a zipper back to a corset back.  Every designers trunk show is different!
Ask the consultant when you book your appointment if there will be any deals or discounts applied for purchases made at the trunk show.  It's important to remember that any special perks come from the designer and not the shop.  Trying to barter with your consultant won't get you very far!
Can I walk in on a trunk show day and try on gowns?
No, bridal salons typically are by appointment, especially on weekends and definitely on trunk show days.  If you want a chance to try on gowns during a trunk show weekend you must book an appointment!
Delica Bridal is booking up quickly for our trunk show!  If you are interested in coming that weekend to see Miss Paige's new gowns please call us and we would be glad to book you in!
You can reach us at 780.465.3604
Is there a charge for the appointment?
While most bridal salons in the Edmonton area do not charge for regular appointments (this includes us here at Delica!), you may find that to book a trunk show appointment there is a small fee.  This is to ensure that the brides who are serious about finding a gown are able to secure their spot.  Because the designer only lends the gowns to shops on a short term basis it's important that the bride who has been eyeing a particular gown for months has the opportunity to try it on in our limited time frame.
There is a $25 booking fee for the Hayley Paige trunk show, however if you find your dress and purchase it that day your fee will be put towards the total cost of your gown.
Will the deals or discounts be extended to me if I don't purchase at my appointment?
While you are under no obligation or pressure to purchase your gown on the day of the trunk show once the event is over any deals or perks will no longer be available.
As well keep in mind that after the trunk show is over many of those gorgeous gowns will no longer be in store for you to come back and try on.  They can still be ordered, however you just won't have the opportunity to try it on one more time before purchase.
How many people can I bring to this appointment?
We always advise that for any bridal appointment a group of three or less is ideal.  Ensure that your entourage includes people who know your style, understand the wedding vision and most importantly are excited for your big day!  You want a supportive group, especially on a trunk show weekend when things can get a little hectic!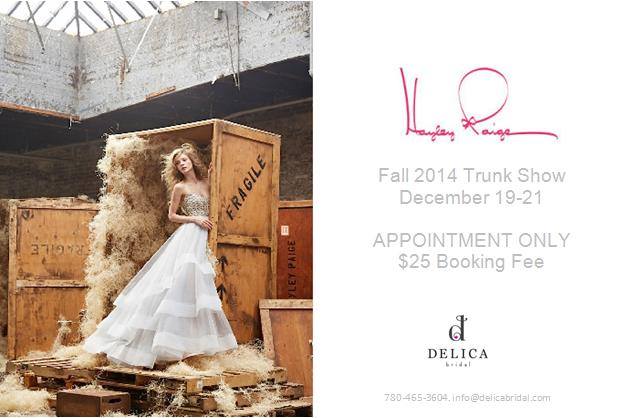 We can't wait to see you all at the Fall 2014 Hayley Paige Trunk Show!
Call us today to book your appointment!