This has to be one of the most exciting wedding questions, so why not add a unique twist? We've found some cute, personalized ideas of ways to pop this question to your bridesmaids!
1. DIY Bridesmaid Boxes
These DIY boxes are so well done, allowing you to add personalized touches inside! Some additions we love are wine accessories, nail polish, a ring pop (or any candy/ chocolate for that matter – the more the merrier, right?), paint swatches of your colour scheme, jewelry, a candle, a mini picture frame, cake pops, lip balm or makeup, and don't forget a cute card (some ideas below).
All of these ideas allow you to tie in your wedding theme or colour scheme. Also consider filling it with coordinating tissue paper, tulle, ribbons, confetti – the options are endless!
Also, you have to check out Inklings Paperie's Etsy shop! The beautiful printable collection allows you to label a range of popular box products. It's an instant download, so no need to wait for the labels to ship!
While you're there, don't forget to check out all their scratch-off cards! They are such a simple and cute touch to add to the box, or just on their own.
2. Personalized Muslin Bags
We love this idea, especially for a rustic themed wedding! These handmade muslin bags are such a delicate way to pop the question to your maid of honor and bridesmaids. It allows you to add in whatever little items you like! We love the idea of adding in a nail polish that matches the colours of your wedding. This is a quick and easy way to personalize a small gift!
Source: The Paper Shoppe
3. POP the Question
This idea is pretty quick and simple to put together, but still allows you to spice up asking your bridesmaids to be in your bridal party! Purchase mini champagne bottles, ribbon and straws that coordinate with your wedding colours or theme. Use the ribbon to tie the straw onto the bottle, and you can also attach a small card onto the bottle. The perfect way to POP the question!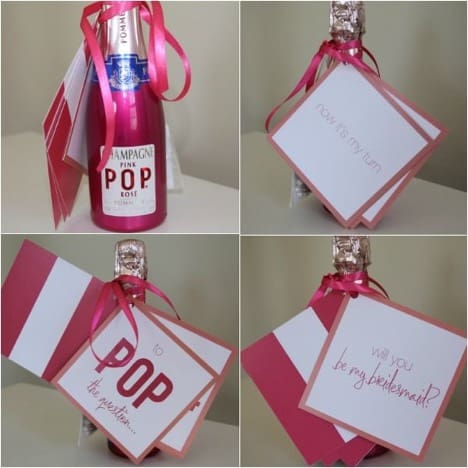 Source: Pinterest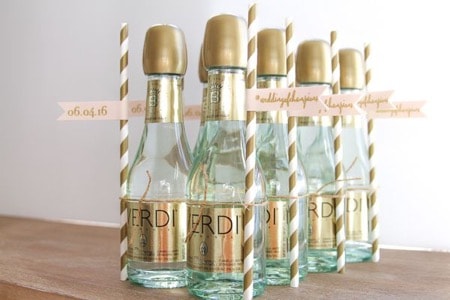 Source: Life with the Champions
4. Custom Designed Gifts
Zazzle is an excellent site that allows you to personalize anything! From a range of paper products to coffee mugs, you can choose what design you want and on what item for a relatively inexpensive price. This makes it so easy to create matching sets that coordinate with your wedding. Also, you can always catch them having a sale!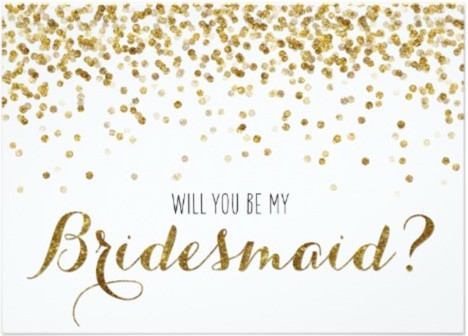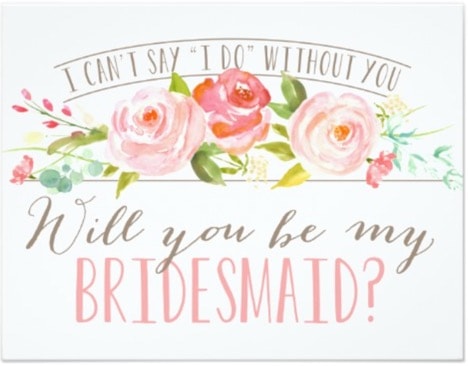 Source: Zazzle Bridesmaids Cards
Hope this helped you get some inspiration as to how to ask your bridesmaids! All the ideas can be mixed together or are great on their own, have fun with it!