The time has come to share Paige's wedding – yay! We couldn't be happier for this couple who had their wedding in Fort Edmonton Park this past June. Paige was the sweetest to work with from the bridal gown to bridesmaids dresses. There's no question these two are in love, from the way Paige writes about it, to the photos that say it all. Besides the pictures, Paige even shared two videos (the highlights of the day are so sweet)! Get ready to swoon over this wedding!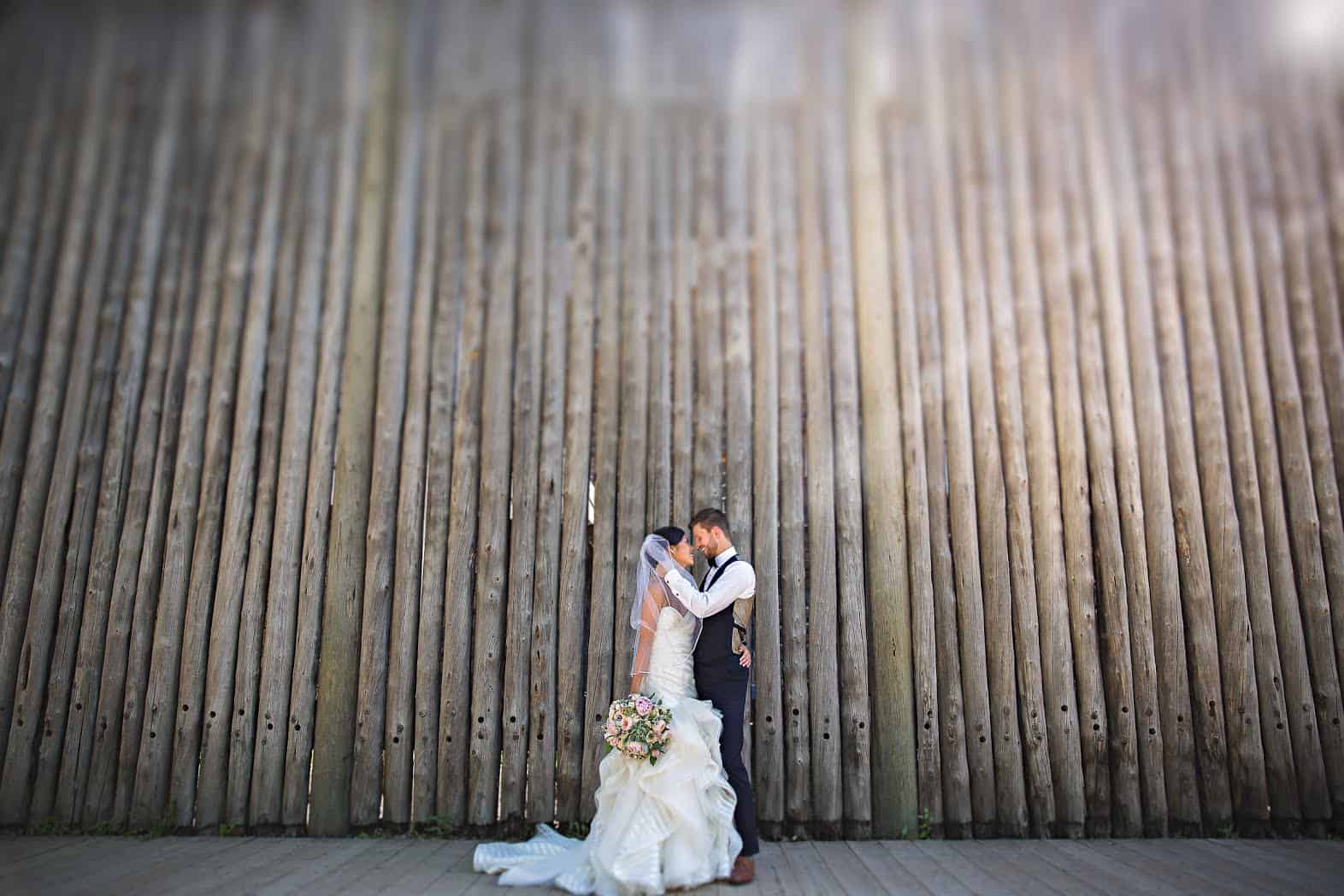 Names of Bride and Groom: Paige and Troy Bontus
Wedding Date: June 27, 2015
Venue: Fort Edmonton Park- Blatchford Hangar
Florist: Tickled Floral
Bridal Gown: Hayley Paige Keaton from Delica Bridal
Veil: Sara Gabriel "Jessica" veil from Delica Bridal
Bridesmaids: Jenny Yoo Wren in spearmint from Delica Bridal
Grooms Attire: Suits by Curtis Elliot
Groomsmen Attire: Suits by Curtis Elliot
Photographer: Nicole Ashley
Videography: Jaymarie Studios
DJ: DJ Kwake- Urban Metropolis Entertainment
Cake & Dessert Table: Art of Cakes & Chocolicious
Wedding Planner: Bride and mother of the bride
Invitations: Pink Polka
Stationary: Pink Polka and Kelty Germain
Head Craniac: Joyce Tobo
Chairs: Special Event Rentals
Make-up: Amber Prepchuk
Hair: Myrna Hood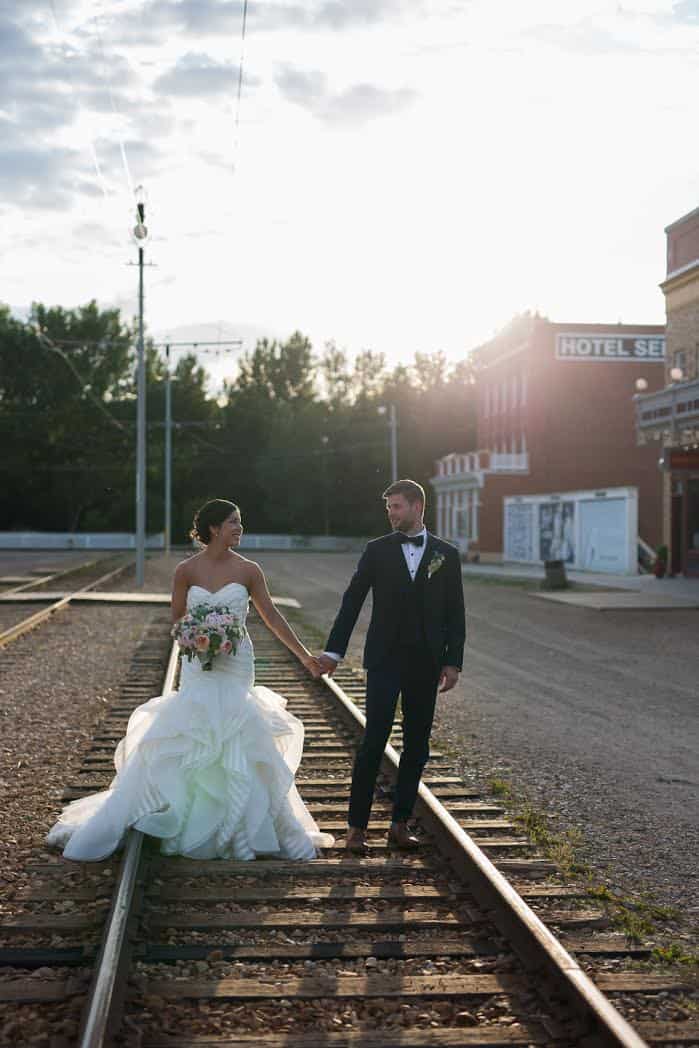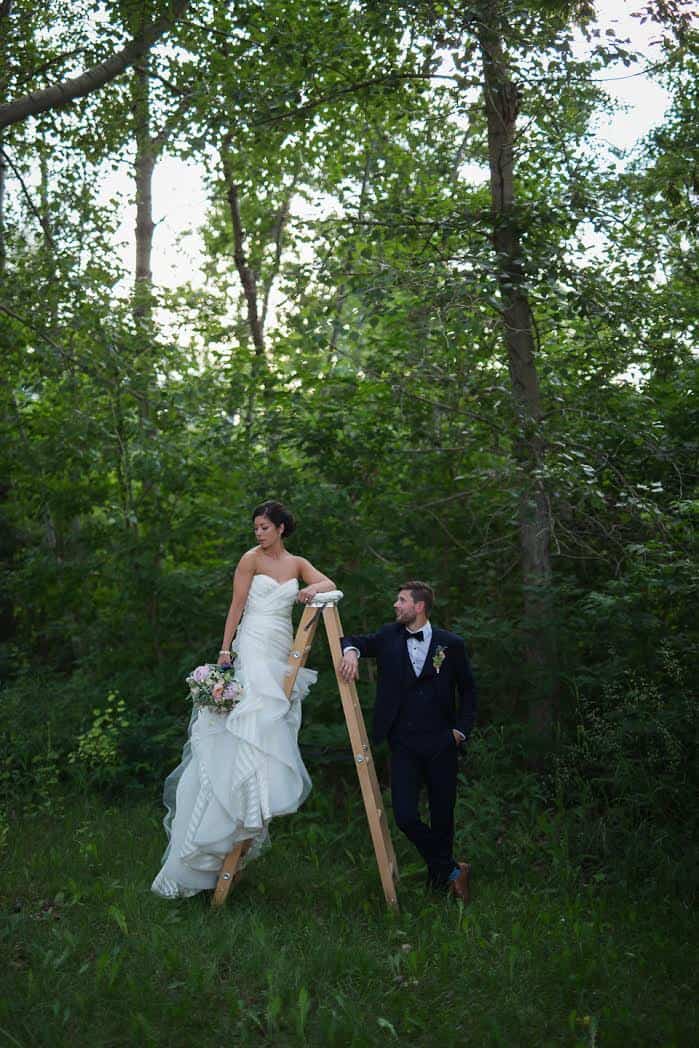 How they met
Our first encounter was in the PE office at SACHS. A casual "hello" and "nice to meet you." Paige had just begun teaching at SACHS and coaching Sr. Girls basketball. Troy was coaching Jr. Girls volleyball and finishing an ED degree at the U of A. They continued to get to know each other because of coaching, the teacher floor hockey team, and talking about Biology 20. Troy then did his practicum at SACHS. During this time Paige and Troy got to know each other better and even co-taught a science 10 class together. Shortly after Troy's practicum finished he was offered a job at Bellerose and SACHS… he chose to stay at SACHS and the rest is history. We presently teach at the same school.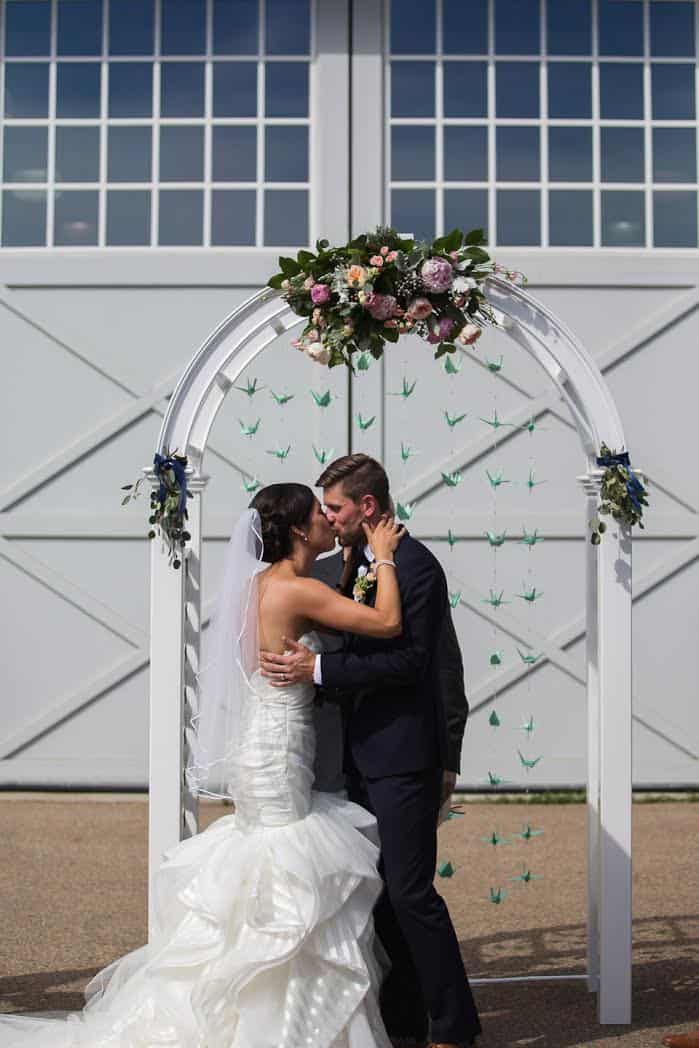 The Proposal
One evening Paige was getting ready to go out with Troy and she found a photobook laying on the foot of her bed entitled, "Our Journey." As she began to look at the book she got emotional because of the thoughtfulness of Troy's surprise. She sat down on the ground and Troy came to sit with her so they could go through the book together. After sharing some amazing photo memories and quotes, Paige flipped to the back cover that said "Just say yes?" Paige immediately started to cry and responded with "really?" Troy then popped up on one knee and pulled the beautifully personally designed ring out of his pocket. The answer was YES!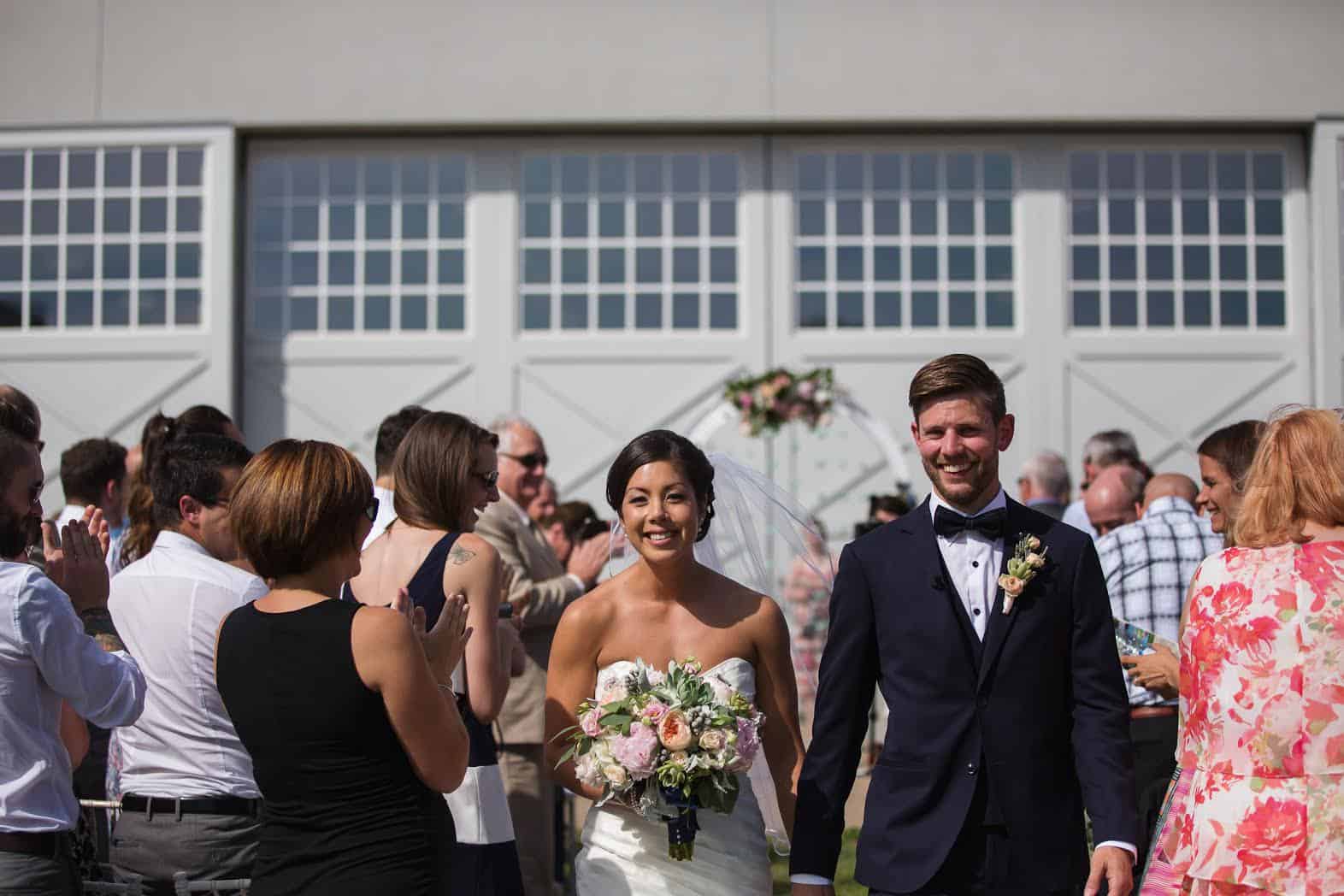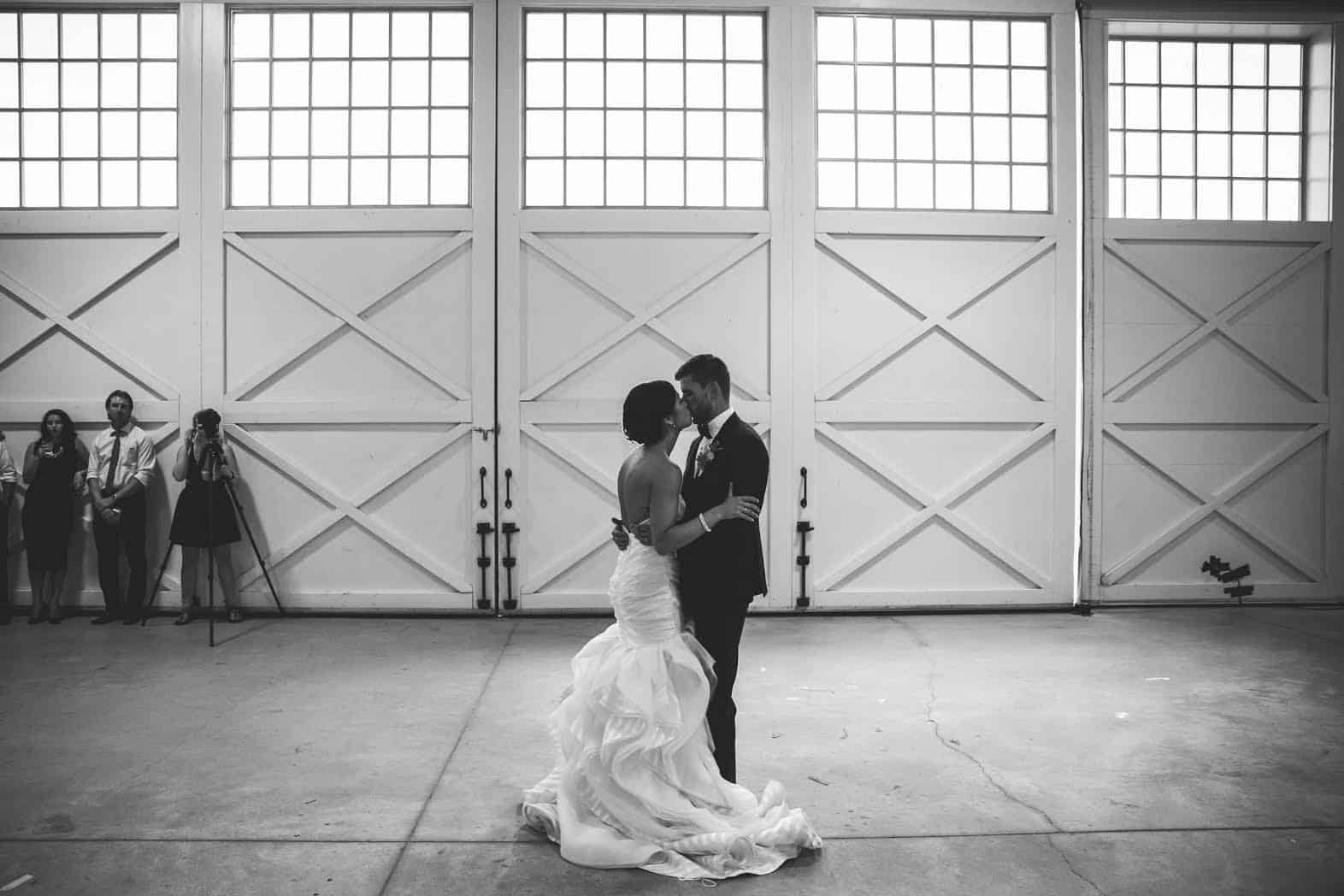 A bit about the wedding…
The couple chose Fort Edmonton as their wedding and reception site as it was perfect for the casual, but elegant feel they were looking to create. Their theme centered on the Japanese tradition of folding cranes which were incorporated into the couple's colours of mint and navy. Over 2000 cranes were folded by family and friends, which were then offered to the couple as a wedding present for a long and happy life together. The cranes were a feature focal point for the wedding arbor, the dining area, place cards and dessert and popcorn table decorations.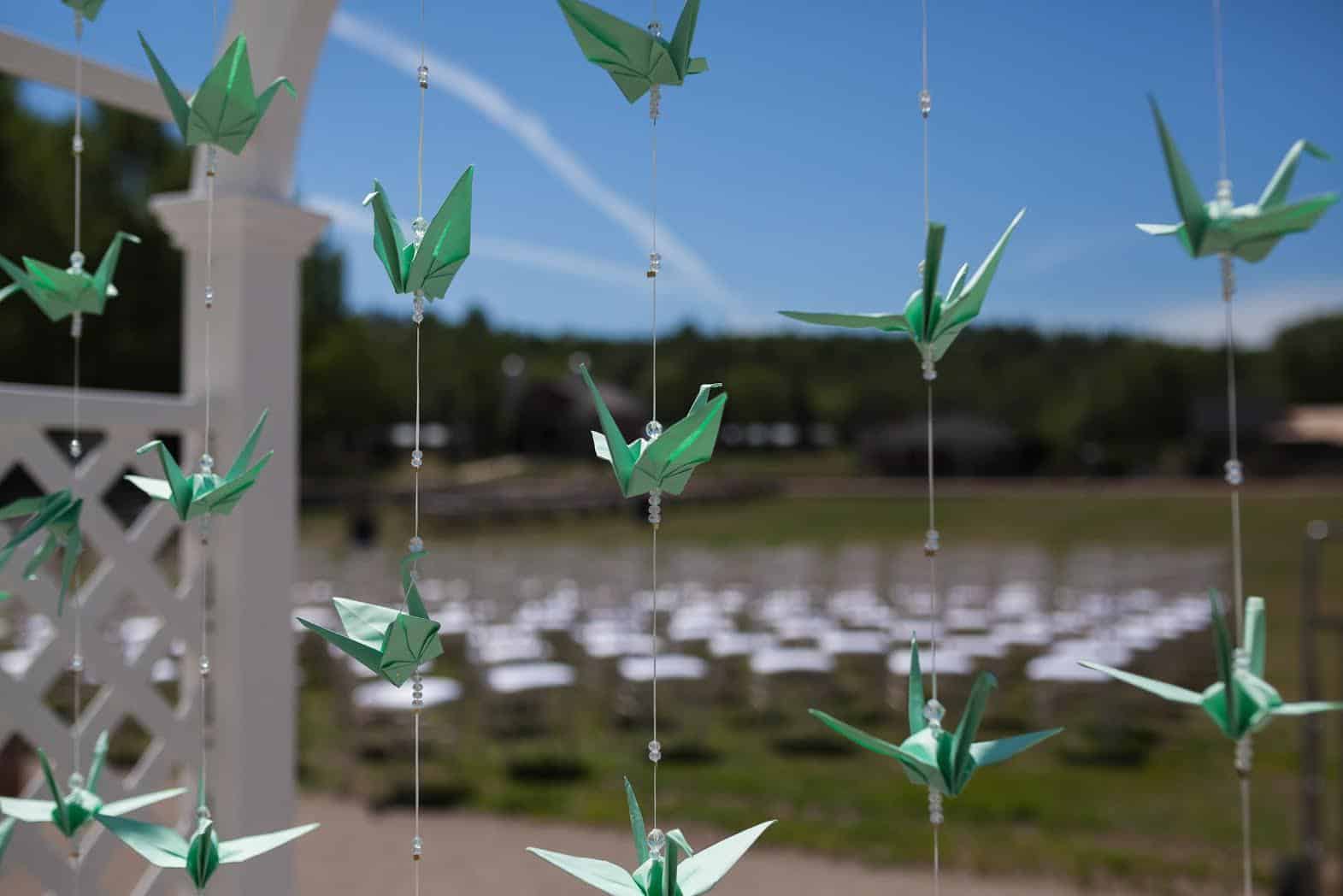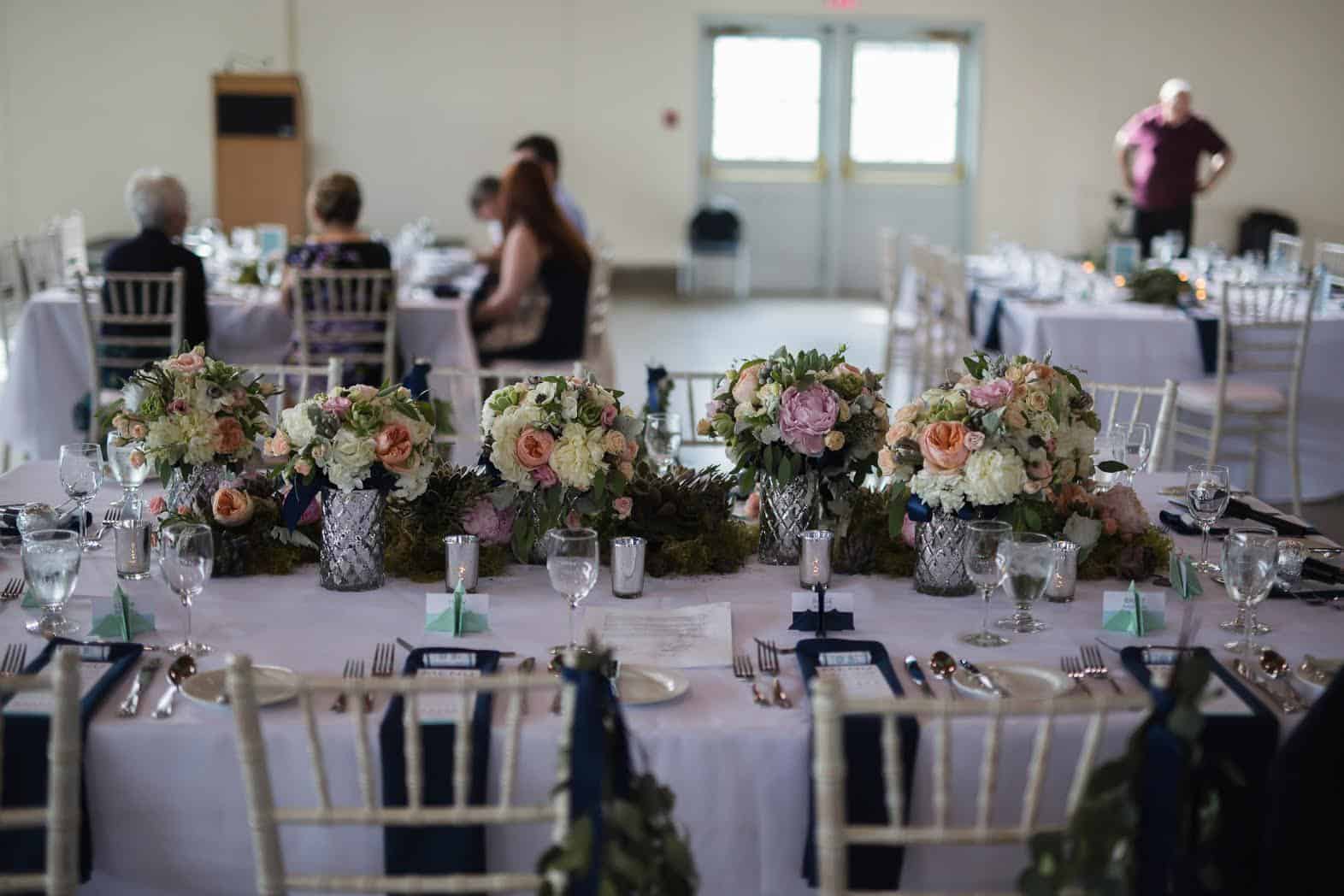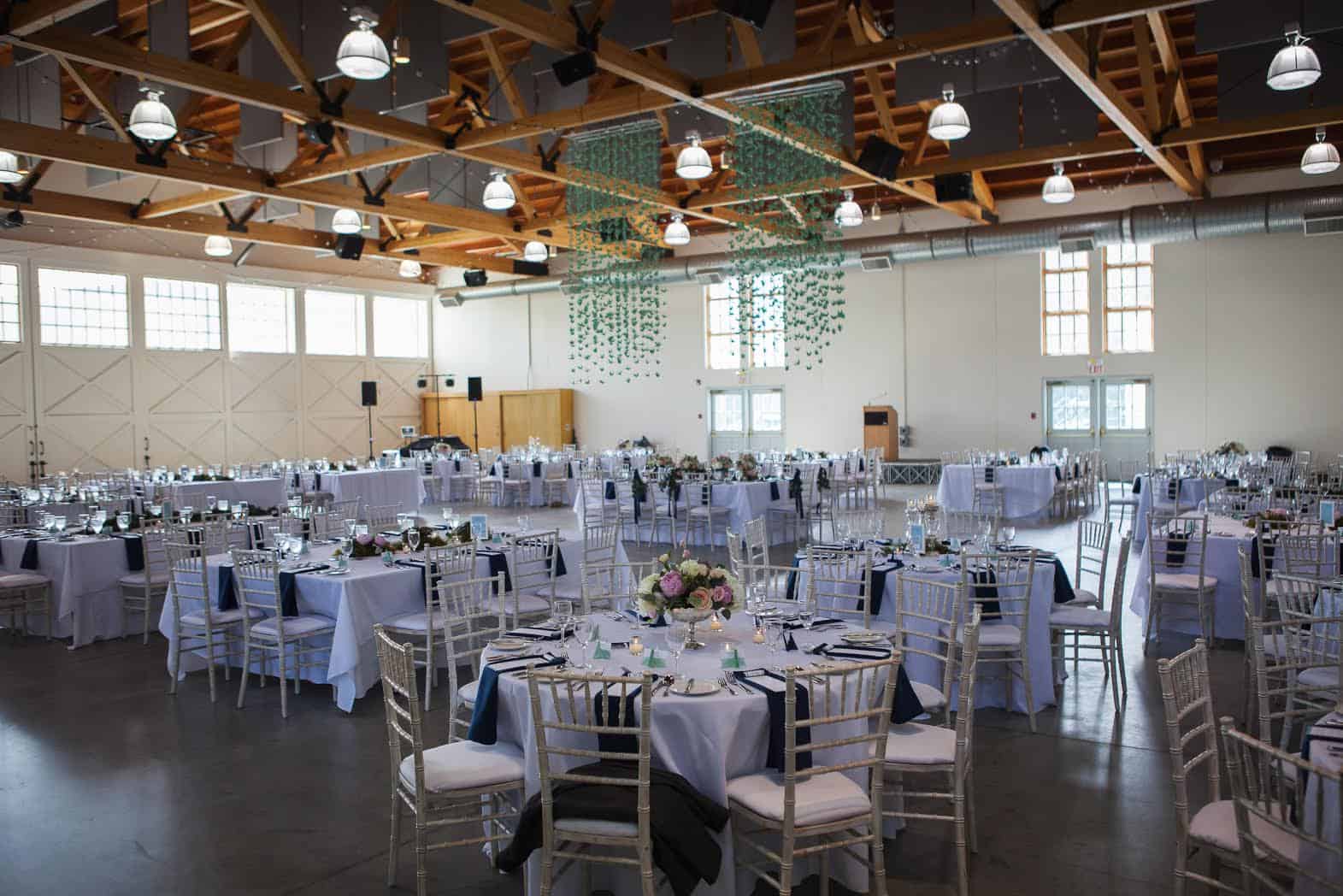 Instead of a traditional guestbook, guests were asked to sign a Beaners game made by the groom at the entrance of the building. And rather than the tradition of tinkling glasses for the newlyweds to kiss, guests were invited to lip sync and perform to their favorite songs. The finale was a hilarious music video created by the wedding party on the story of how the couple met.
Guests sampled signature drinks to keep partying late into the night and could either hit the dance floor, or move outside to play the couple's favorite game, "Beaners," Bolla, or giant Jenga.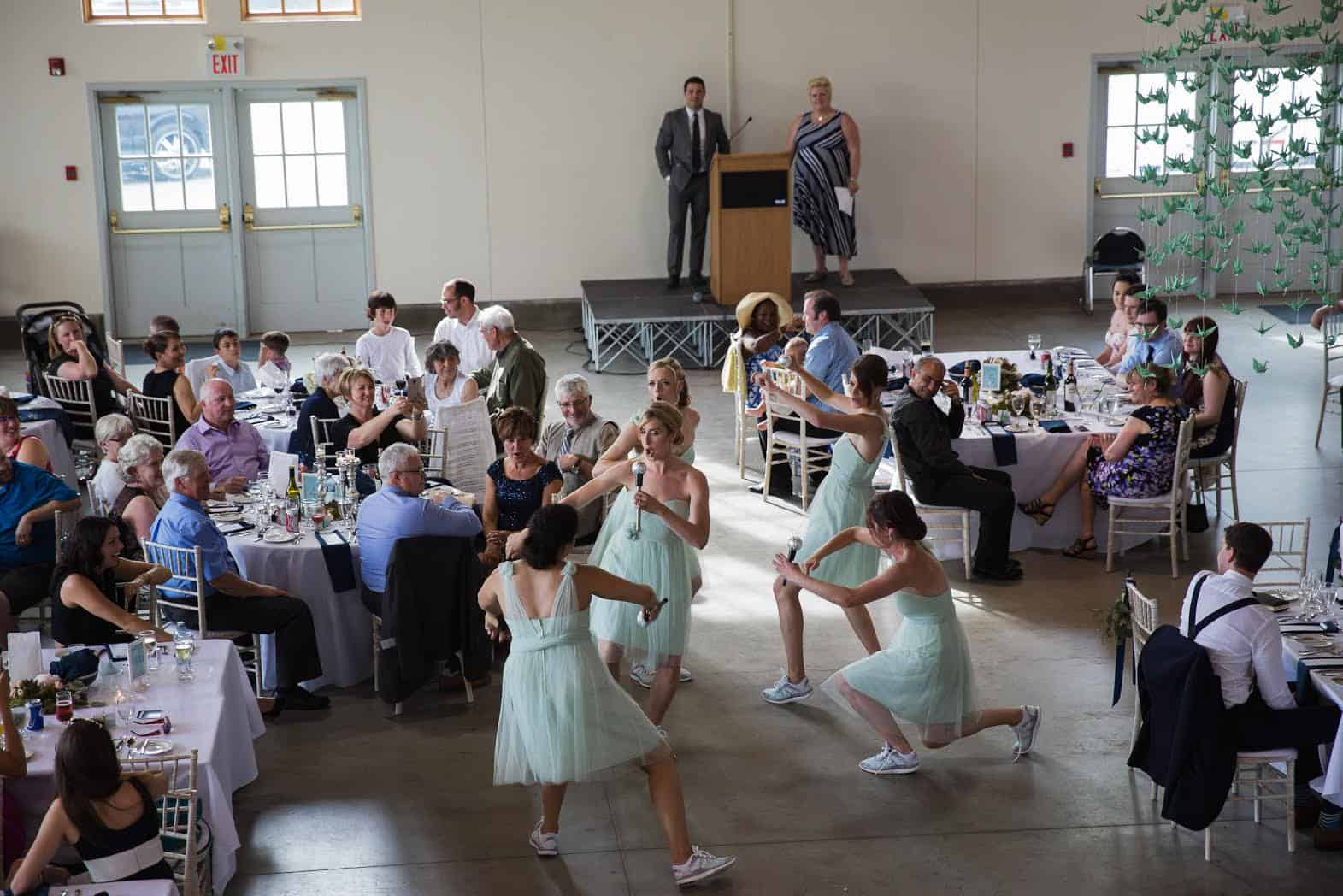 What was your favourite part of the day?
There are so many favorite parts! It is very humbling and overwhelming to have all your favorite people in one room. It was very special to be able to look out among the family and friends and see all the love and support they have for you.
First, Paige got her bridesmaids matching Nike's as a gift – such a cute idea! And second, we love how each bridesmaid tied their Jenny Yoo Wren dress differently to make it unique!
Another was our first look and not in like the cheesy first look kind of way. Like most people say, it was the moment my husband got to see me in my dress on my wedding day. Troy and I are silly and that's what I love about us. The first thing he says to me when he sees me "well that's a fancy dress, what's the occasion?" To which I respond: "you got different bow ties?" The bow ties he had originally picked out, I did not really like so he surprised me and got different ones without me knowing. He then says "well let's go get married." And I say "I have bugs in my dress." It was really funny to watch back because the whole thing was recorded.
A couple more: My brother was also my man of honor and carried a bouquet down the aisle and then stood by my side. Seeing my dad for the first time. My parents walking me down the aisle.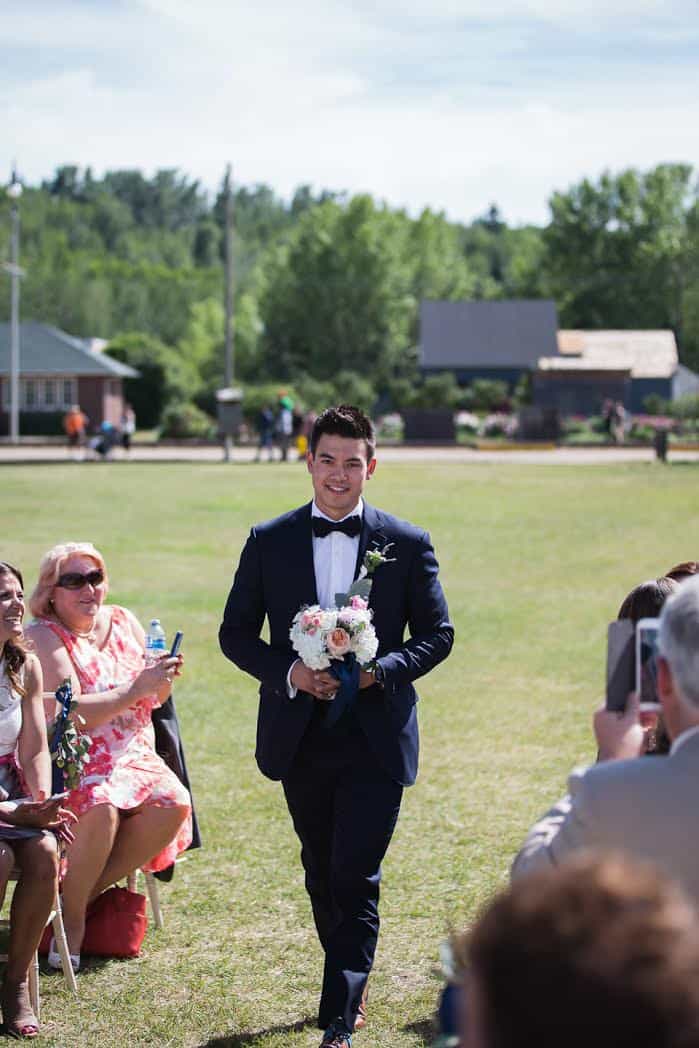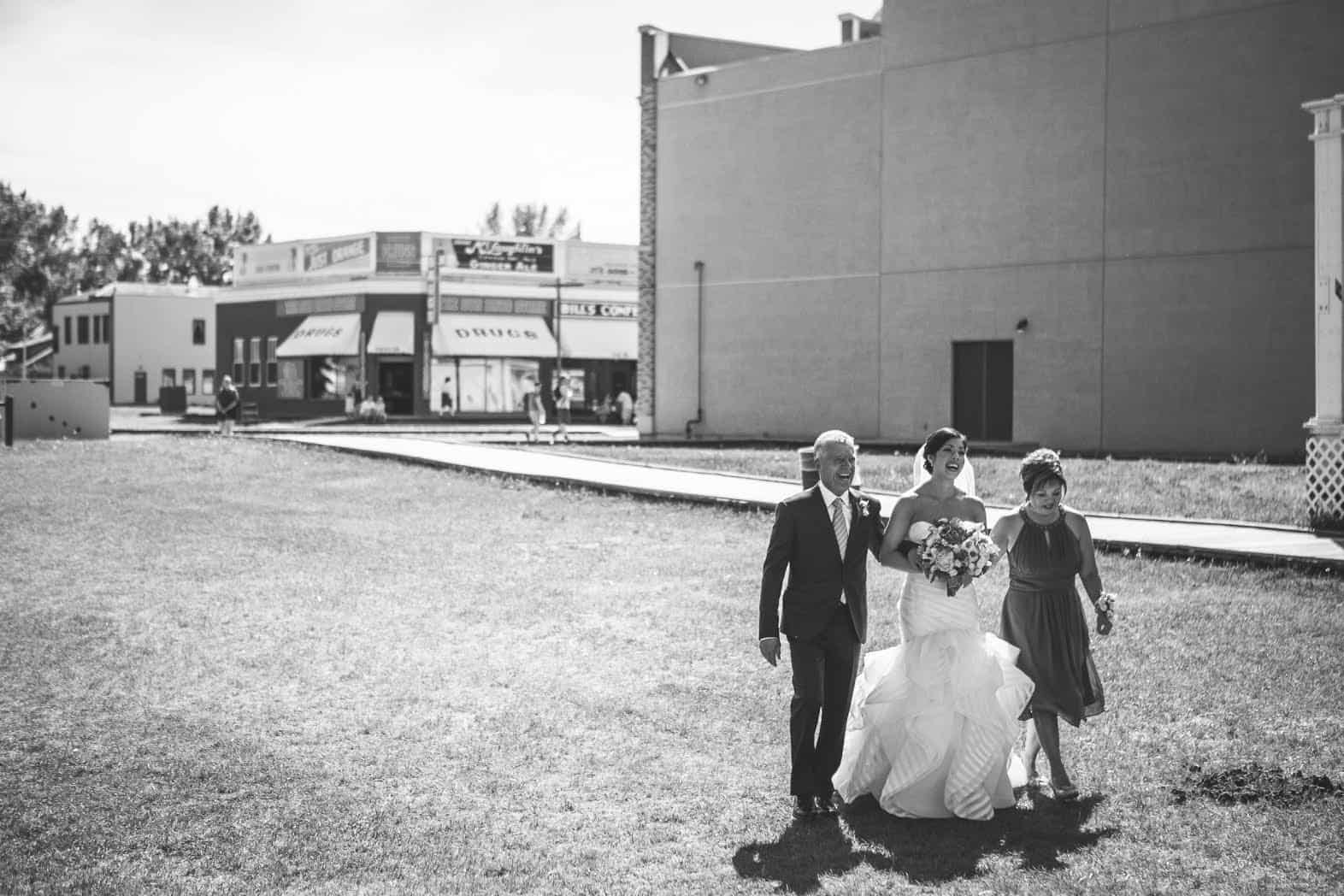 What advice would you give to newly engaged brides when they begin the planning process?

Planning a wedding can be very stressful so try not to take it too seriously. Make lists and surround yourselves with people you trust and want to help you through the process… or just elope. Just kidding, it was all worth it in the end.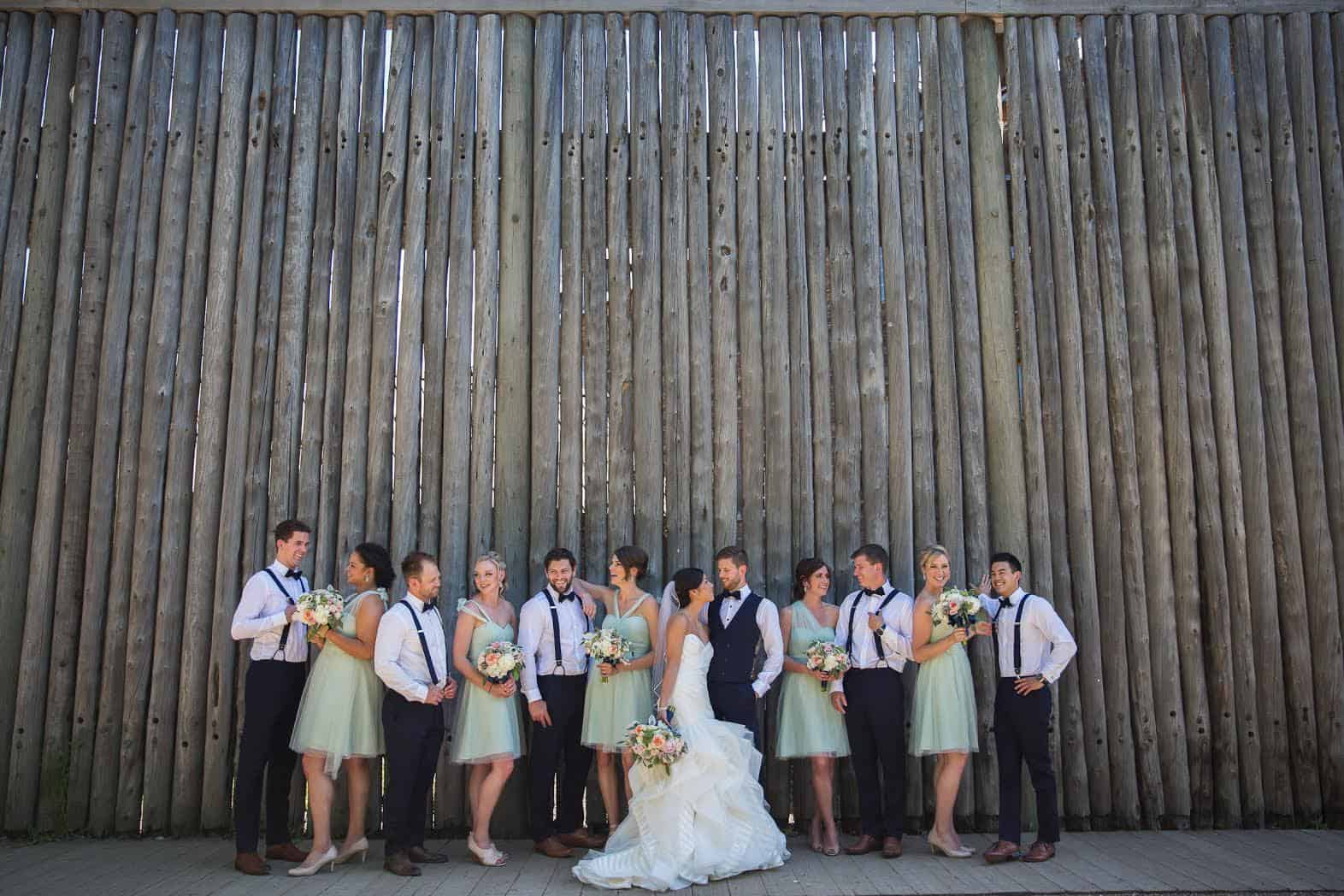 Every wedding NEEDS a videographer and a killer photographer. The whole day goes by so fast and it is so nice to be able to go back and experience the special moments from the day over again. Justine and Nicole were the absolute best and we couldn't have picked better ladies to tell our story.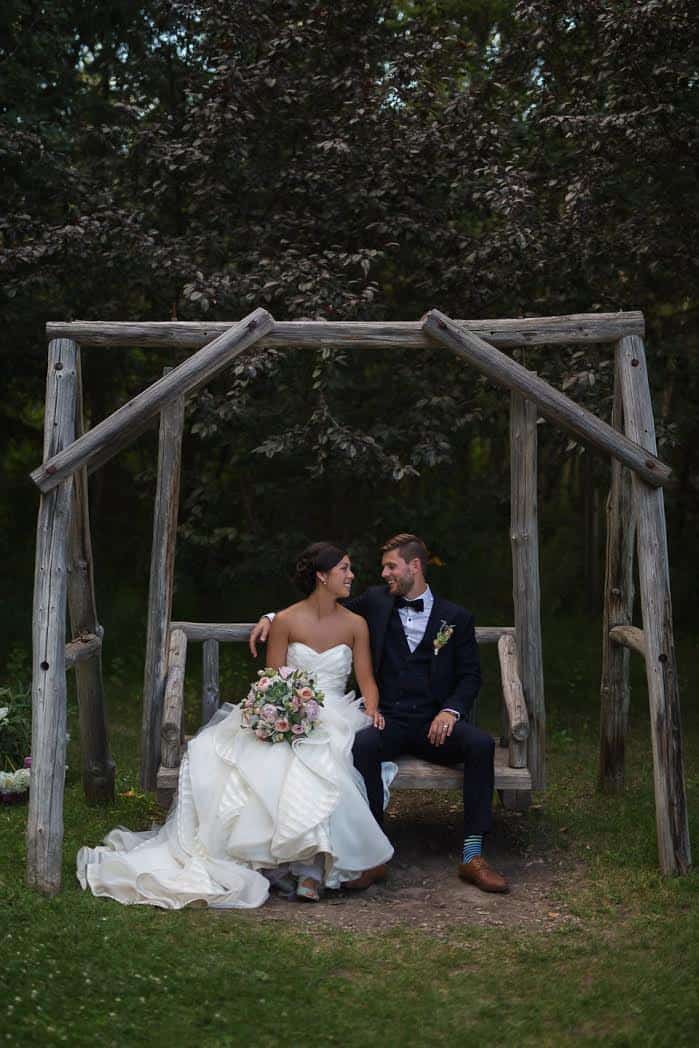 Delica Experience
I can't thank Ashley and her team enough, they were the absolute best! Their shop has by far the most beautiful and unique dresses. They helped me pick out the perfect wedding dress and dresses for my bridesmaids. I never worried during the process because I knew Ashley would make sure everything was just right and it was 🙂